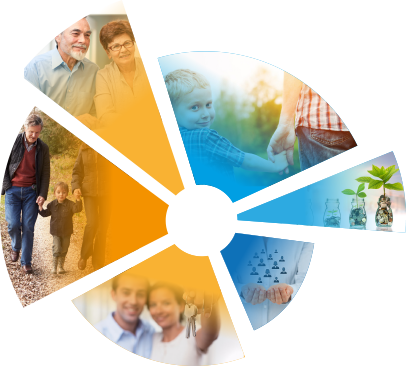 How We Work
We will be professional, clear and fair in our dealings with you and will always ensure that any service or advice provided is in your best interests. We provide:
Bespoke financial planning tailored to your specific requirements, reviewed and modified over time
The benefit of our years of experience, knowledge and studies
Independent research and efficient administration backed up by the latest technology
Advice Options
We offer the following advice options:
Execution only – for one off transactions instructed by you
Limited advice – approaching limited aspects of financial planning
Full advice – full financial review based on all aspects of financial planning
Full Advice – a 'Comprehensive Plan'
Where a full advice option has been agreed, we aim to provide all our clients with full and comprehensive advice rather than limiting it to one aspect or product. This means that we will consider how all your plans and investments overlap and interact with one another in order to formulate the most efficient strategy for your needs. This is often summarised as "holistic" planning. In order to construct an all-encompassing financial plan for our clients, we will consider Mortgages, Protection, Pensions, Savings, Investments, Taxation and Trusts with a full advice proposition.
To provide comprehensive financial planning and wealth management advice, we follow a 5 step comprehensive and robust process as follows: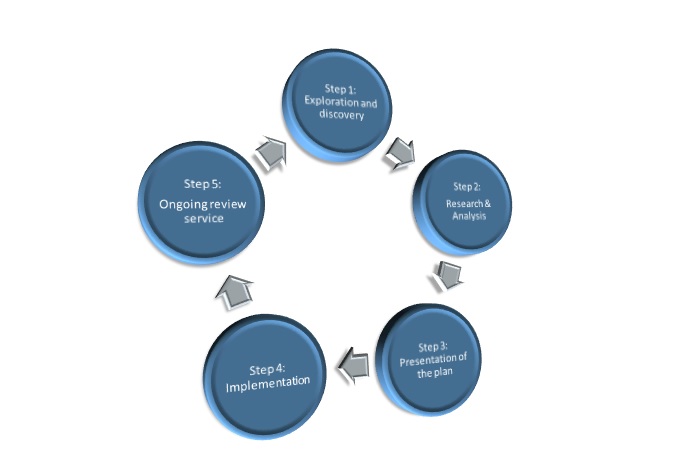 Step 1: Exploration & Discovery Meeting
We will normally meet with you face-to-face at our expense in order to capture important information about your current circumstances, your financial history, and your aspirations, priorities and objectives. We will discuss your attitude to "investment risk", your understanding of how different risks may affect you, and show how you can best make your money work for you. We also discuss what you currently have in place to see how it helps you now and in the future.
The consultation will close with a summary and our suggested next steps toward a tailored and realistic solution to your needs and you should allow up to 2 hours for this meeting. With your agreement to create a financial plan, we will move to Step 2. However, should you not wish to proceed, there is no obligation to and no costs will have been incurred.
Step 2: Research & Analysis
Should you decide to proceed from our initial meeting, we will ask you to formalise your permission for us to do so and commence chargeable work for you by signing a client fee agreement. We will contact your existing providers to obtain the information we need to gain a better understanding of your current arrangements. We will then undertake the process of thoroughly analysing your current position based on our extensive knowledge of financial markets, and diligently research potential solutions for your needs.
Step 3: Presentation of the plan
When we have all the information we require, a full Financial Planning Report will be devised to paint a clear picture of your current position and to outline our researched recommendations for the solution we believe to be in your best interests as identified in Step 1. We will arrange to meet with you to discuss our recommendations in full and take you through our Report step-by-step. You are free to take the report away and give it due consideration before agreeing to move forward to the next stage. Once we have agreed on the best strategy, we will carry out the necessary steps to put it in place (implementation).
Step 4: Implementation
Once you feel that you are in a position to make a fully informed decision to proceed, and you have given us your consent to do so, we will begin the process of implementing our recommendations. We will assist you in completing all of the relevant forms and ensuring your applications are processed by the relevant investment houses and providers in a timely manner.
Step 5: Ongoing Review Service
As part of our ongoing financial planning and wealth management service, we will arrange to meet you on a regular basis to review your financial plan. The purpose of these meetings is to reconsider your financial position and any market changes. If necessary, your plan will be amended to ensure your objectives remain attainable.
Our aim is to build ongoing long term relationships but engaging us to provide you with an ongoing service is OPTIONAL. However, it is important to emphasise that, in the absence of a specific agreement to provide you with ongoing services, any investment or pension portfolio will not be monitored.
Hamblin-Martin Financial Ltd is an appointed representative of Best Practice IFA Group Ltd which is authorised and regulated by the Financial Conduct Authority.
Hamblin-Martin Financial is entered on the FCA register under reference 711323.
Hamblin-Martin Financial Ltd. Registered in England No. 9630529. 
Best Practice IFA Group Ltd. Registered in England No. 0449063.